Watch out for the literal avalanche of QR codes on store windows, advertising pages and if you're really really really on top of your social media marketing game, the dental world is going to figure out how to use them to drive every aspect of a practice.  THEY ARE THE ELECTRONIC BUSINESS CARD, PROMOTIONAL PROJECT, SOCIAL MEDIA DRIVER OF TODAY.
A QR code (abbreviated from Quick Response code) is a type of matrix barcode (or two-dimensional code) first designed for the automotive industry.The code consists of black modules arranged in a square pattern on a white background. The information encoded can be made up of four standardized kinds ("modes") of data (numeric, alphanumeric, byte/binary), or by supported extensions virtually any kind of data.
Created by Toyota subsidiary Denso Wave in 1994 to track vehicles during the manufacturing process, the QR code is one of the most popular types of two-dimensional barcodes. It was designed to allow its contents to be decoded at high speed.
Applications for QR Codes……Read entire article at
Sharing – There's no limit to how, or even how much, you can share with QR codes.  While a video or landing page is easily shared, you could go further and share an entire eBook and even multiple pieces of content that share a common link.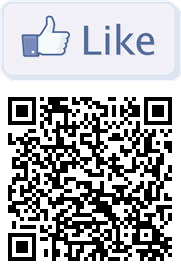 QR code Like button to the author's Facebook page.
Community – Sharing is how you build community, and one of the favorite arenas for doing this is Facebook.  You can use Likify to create a QR code that links your mobile device to a fully functioning LIKE button for your Facebook page. This greatly simplifies the process of merging your other communities with your Facebook page – and it is all accomplished in one click. Additionally, the accompanying signature "thumbs-up" clearly suggests the purpose of the code.
Calls to Action – After building a community, the next logical step is to mobilize them to take action.   What are you trying to accomplish?  You can alternate special offers by simply linking your QR codes to new landing pages, and you can combine then with email opt-ins to build your list. Sorry about forcing you to go to the YOUTUBE link,  but even Word Press gets wonky apparently.
http://www.youtube.com/watch?v=wgaxrDywZLQ